Types of Massage Services Available
Therapeutic, Medical/Rehab and Relaxation Massages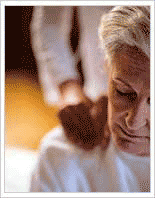 To book your appointment online:
Please see the tool bar to the left of this page and click on the Book An Appointment icon .
Back in Health Signature Massage- Our most highly requested treatment.
This Massage IS NOT your typical relaxing spa massage;
However IF YOU HAVE NECK, BACK, SHOULDER, OR HEADACHE PAIN, THIS IS THE MASSAGE YOU WANT!!!!!!!
This Massage is an integration of relaxing Swedish massage, Deep Tissue massage, Neuromuscular and Trigger Point Therapy and specific muscle stretching: that can be used in conjunction with Hot/Cold Therapy as well as Electrical Muscle Stimulation (EMS) to maximize recovery, improve range of motion and ease aches and pains.
60 Minute Session.....$55
90 Minute Session.....$70
Swedish Massage
A classic therapeutic massage designed to release tension and stress throughout the body. It relaxes muscles and provides a feeling of tranquility and heightened well-being.
60 Minute Session…..$55
90 Minute Session…..$70
Deep Tissue Massage
A form of bodywork to relieve tension in the deeper layers of tissue in the body, releasing Chronic stress areas due to misalignment, repetitive motions, and past lingering injuries.
60 Minute Sessions….. $55
90 Minute Sessions….. $70
Fluid Massage Technique (FMT)
The fluidity, or flow, of the massage, is created by a never-ending contact and movement by the therapist. Through the use of proper body mechanics and table height, FMT uses the therapist's full body to deliver the technique and varied pressure. FMT is medium to deep tissue work, but can be varied if lighter pressure is required.
60 Minute Sessions….. $55
90 Minute Sessions….. $70
Pregnancy Massage
Any of our massage treatments can be employed with the use of our custom support body systems. This system allows the pregnant patient to be completely comfortable, even when laying face down. If you are pregnant, you will love this system.
60 Minute Sessions….. $55
90 Minute Sessions….. $70
Chair Massage
An acupressure massage of the back, neck, shoulders, arms, wrist and hands performed on a fully clothed person while seated in a specifically designed chair.
15 minute Sessions.....$20
30 Minute Sessions.....$35